What is the use of halfpipe?
A halfpipe is used in performing stunts in sports such as skateboarding, snowboarding, rollerblading, scooter riding, and BMX riding. Children, teens and adults alike love the freedom of a half pipe. 
What does a half pipe look like? 
Typically, half pipes are a structure with a U-shaped cross-section and a half-moon-shaped chute or ramp, and snowboarders and skateboarders use them to provide a takeoff for a jump.
The image shows a teenager using our halfpipe with a scooter, he is upside down mid-stunt. This was a corporate day in London.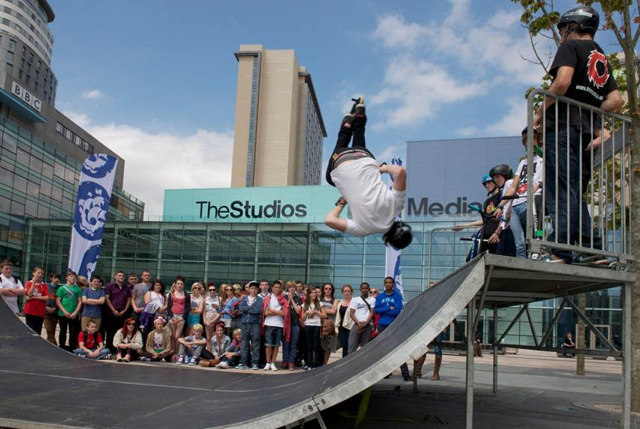 How steep is a halfpipe? 
Half pipes are steep when you first start out, and there is a method for riding one. If you drop off the edge with a skateboard or scooter, you naturally want to lean back, but the secret is to lean into the drop. This is much safer despite it feeling a little unnatural. Start 30% of the way up one side and get a feel for the half pipe first. It also helps if you have an instructor who can take you through the challenge of gaining your confidence. 
What is the difference between a half pipe and a quarter pipe? 
The primary difference is that a half pipe is that it is half of a circle, and a quarter pipe is a quarter of a half circle, so it is just one side of a half pipe. You would see a quarter pipe at the end of a flat section so that you could cycle, scoot or skate into it and then arch down the other side.
The image shows a teenager using our halfpipe with a BMX, they are mid-stunt. This was a summer camp run by the council. It was semi-permanent and was at the School for 3 months.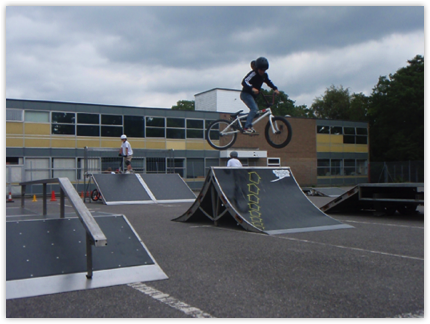 To summarise: 
A Half pipe is like a half moon, whereas a quarter pipe is effectively a curved ramp. See the images for reference. 
Where can I hire a half pipe? 
You can hire a halfpipe at Highline Adventure; we provide halfpipe hire in Norfolk and across the UK. Our equipment is well maintained and insured, and we have staff to set up the equipment for you safely, for either short-term hire or sometimes longer-term hire. 
Short-Term Half Pipe Hire  - This typically refers to a few days to a week's hire of our mobile skate park ramps. 
Long-Term Half Pipe Hire - This tends to exceed a few weeks and is more like the example here, where the council hired our equipment for a School to help occupy the children for the duration of the six-week holiday.